What we do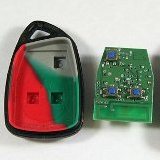 When we repair a remote for you, we don't just "fix" it!
First, we clean up the printed circuit board (PCB) and buttons, remove old/excess solder (typically from previous repair work) then clean and tin the terminals of the battery holder before reseating and resoldering.
We then strengthen the repair with hot melt glue to hold the weight of the battery when it's in place and clean, rebuild or replace buttons as necessary.

Included with your repaired remote is a detailed condition report and work completed, programming instructions plus some tips on how to replace the battery in the future without the risk of breaking it again even through we've strengthened it up.
What can we fix?
We have seen a wide range of broken remotes, even ones that have been for a swim!
Some of the work we do includes -
Repair Process
When you send your remotes for repair, we don't ask for any money upfront.
When they arrive we let you know we have them and shortly after give you a status report of the condition when we first look at them.
We then give you a recommendation on the repair working including a rough quote.
With your approval we will complete the repair and test the remote thoroughly before returning to you.
Testing Process
As we complete the repair we carry out tests during each phase. Occasionally we will find problems that were not identified during the initial condition check. In this case, we will advise you of any potential additional costs before proceeding.
Once the repair is complete we advise you of our payment details and continue to test ourselves until your payment clears and we post back to you.
For Magna remotes, we test all buttons on a genuine Magna Body Electrics Module (BEM) to ensure it's working well enough for us to use personally and be happy.
For Lancer remotes, we test all buttons where possible with a meter and reply on the status LED to indicate transmission. If you are local we will happily test on your vehicle.
Repair Fees and Payment
We don't ask for any money upfront for your repair work.
If we cannot fix your remote and have needed to complete a partial repair to determine this, we charge a nominal fee for our time or if parts can be salvaged may offer you a reduction in your other repair fees or make an offer to purchase from you.
We prefer Direct Deposit and check our accounts on a daily basis to ensure you aren't waiting.
When using PayPal, they charge a percentage value for all funds received. You can pay via PayPal if you wish, however the total amount will be adjusted and a PayPal transaction fee recovery added to ensure the "full" (Direct Deposit) amount will be received.
A Family and Friends transfer can be used to avoid fees using paypal.me/remoterepairs.
We only return your remotes once full payment received.
Please Contact Us for a quote.
Remote Repairs

TH-TW Magna & KH-KW Verada (1999 - 2005) remote repairs.

Most models between 2000 – 2007 including GLi remote repairs.
Testimonials
Thankyou so much for repairing my remotes for my car, & being honest when I overpaid you. I am completely satisfied & happy with your service. I am sure to refer others onto you.

J J -

Murwillumbah, Queensland
More